Weekly Langar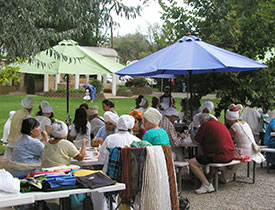 We serve langar to all sangat members and community members on Thursdays at 12:30 pm at our langar hall. We gather to sit together as a family and enjoy the company of everyone who joins us. Your donations are greatly appreciated. If you would like to participate in the preparation of this meal or clean-up, please contact the langar sevadars >
On Sunday's, we also serve a free langar immediately following our Sunday Gurdwara services approximately at 1:00pm at our langar hall. All are invited to share in this meal.
Kundalini Yoga classes and Teacher Training Courses are available at the ashram in Espanola and in Santa Fe. You may contact the yoga centers directly for their schedules. For more on Kundalini Yoga classes in the area.
Hacienda Yoga
Kundalini Yoga classes are being offered weekly at Hacienda Yoga. The center is located off of Shady Lane on Shakti Lane, just off of Yogi Bhajan Memorial Highway (St Road 106) and Shady Lane. Turn left into Shakti Lane and park immediately to your left. Hacienda is a short walk down on your right. Overflow parking is available on Prosperity Path or Narayan Court (just across Shady Lane). Visit www.haciendayoga.org for class schedule.