Below is a small map of the Ashram area and surrounding streets. (For available transportation to and from the Albuquerque International Airport, see below.)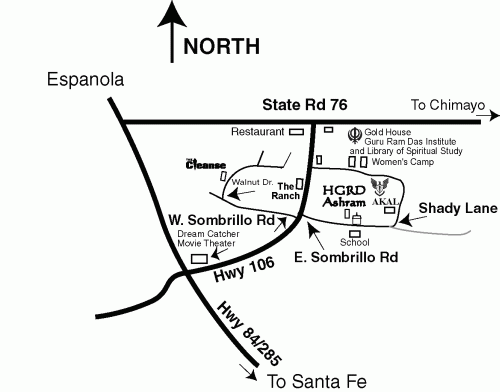 Directions on how to get to HGRD:
From the Albuquerque Airport:
Follow the exit signs out of the airport to I-25 North - to Santa Fe.
Get on I-25 North and follow the signs to Santa Fe.
Drive approximately one hour on I-25 north until you reach the exits for Santa Fe.
Take the "St. Francis Drive" exit for Santa Fe.
The total driving time from the airport to Santa Fe is approximately 1 hour.
From Santa Fe:
Drive North through Santa Fe on St. Francis Drive.
When you leave town you will be on 84/285 North – going towards Española.
Continue driving on 84/285 North for approximately 26 miles toward Española. (Pass several casinos and drive through a small town called Pojoaque.)
When you reach the top of a hill at a signal light, just in front of the Dreamcatcher Movie Theater, turn right onto Highway 106, "Yogi Bhajan Highway."
Go 1/8 mile on Highway 106 to "East Sombrillo Road."
Turn right on "East Sombrillo Road."
Go 1/8 mile on "East Sombrillo Road" and you will see the golden dome of the temple, Hacienda de Guru Ram Das (HGRD) Ashram, on your left and a vacant elementary school on the right.
Turn left into the parking lot on your left, going through the iron gates, and park.
The total driving time from Santa Fe is approximately 30 minutes.
Transportation
Groome Transportation - (formerly Sandia Shuttle) - Only travels between Albuquerque International Airport and Santa Fe. Phone: 505-474-5696 or toll free at 1-888-775-5696.