The lands of HGRD are dedicated to serving the inspiration and upliftment of all those who visit here and those who live here. The grounds are tended and beautified through the love and devotion of the grounds keepers and sangat members. Please Note: Dogs are not allowed loose on the Ashram property.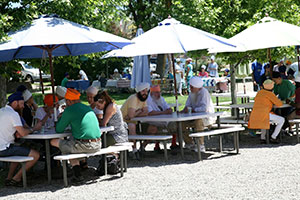 The main complex of Hacienda de Guru Ram Das (HGRD) consists of 20+ acres of land with the entrance gates on Sombrillo Road. This land is owned by the SSS Corporation, the non-profit corporation that will hold and protect these lands in perpetuity. The land houses our Gurdwara, Langar Hall, administrative offices, and community-based businesses.
Ram Das Puri, 160 acres of land in the high desert wilderness of the Jemez Mountains, is owned by the SSS Corporation and is the site where our annual Peace Prayer Day and Summer Solstice Sadhana celebrations are held. To learn more about Peace Prayer Day and Summer Solstice Sadhana, please visit www.3ho.org and click on 3HO events.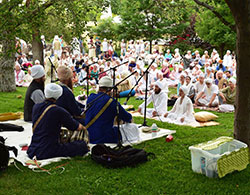 The Ranch, including Guru Ram Das Estate, located on the Yogi Bhajan Memorial Highway, is the home of Bibiji, her family and staff. Tours of this property may be arranged by Guru Simran Kaur, Ranch Custodian, [email protected].
The lands and administrative services of HGRD are all supported and paid for by contributions to the Community Growth Fund (CFG)—which pays for the areas and services that are enjoyed by all of our visitors and members and of the community and some rental income of those who live in ashram housing.  HGRD is dedicated to continuing to serve the mission of Yogi Bhajan and fulfilling his vision for these lands to serve the needs of humanity in the future. He designated HGRD as the Mother Center because he knew that there will come a time when many thousands will come here for solace and healing. He told us that in the future, "First people will fly here, then they will drive here, and finally they will crawl here."
If you would like to contribute to our community growth, click here >