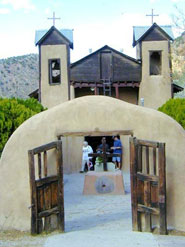 We offer the following information to individuals and families who are thinking about moving to Española to join the Mother Ashram. New Mexico is a beautiful state.
Many feel called to its mountains, mesas, and desert, its active spiritual and arts communities, only to find the realities of living in Northern New Mexico to be an unexpected challenge. Why? The area is semi-rural, inhabited by people who trace their ancestry back 400 years to the arrival of the Spanish conquistadors. The climate is harsh if you are used to sea level and regular rainfall.
Wages are generally low (minimum to $15/hour), but the cost of living is increasing. If you are meant to live here, the challenges will be handled, but it certainly helps to know what to expect and what resources are available.
It's strongly recommended that you own a vehicle to live and work here. Mass transportation is limited however there is a Park and Ride bus system and the RTD Blue Bus that now serves the area. Española is part of a tri-city/county area that includes Santa Fe and Los Alamos (cities) and the counties they are based in (Rio Arriba, Santa Fe, Los Alamos).
Learn more about: