Northern New Mexico is known for its diverse religions and cultures. We have listed a few of the numerous groups in the area.
Other Ashrams and Spiritual Centers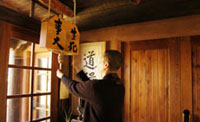 Amma Center of New Mexico - Santa Fe
Neem Karoli Baba Ashram - Taos
Tashita Buddhist Center - Santa Fe
Thubten Norbu Ling Tibetan Buddhist Center
KSK Dharma Center and Bodhi Stupa
Some Featured Churches
Eight Northern Pueblos
North Central New Mexico is home to the Eight Northern Pueblos and the Jicarilla Apache Tribe. All welcome visitors, and some have welcome centers. Visitors are also invited to designated feast days. Check with each pueblo regarding camera regulations and feast days.
To read more about the pueblos go to the following links:
https://www.santafe.org/visiting_santa_fe/native_american_culture/pueblos_tribes_nations/pueblos_north_of_santa_fe/
Spiritual Tours in New Mexico
Amma-Ji visits once a year on the weekend after solstice - Amma Tour