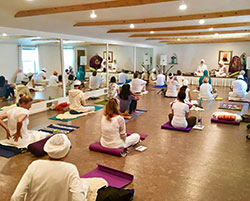 Kundalini Yoga, the Yoga of Awareness, was brought to the West by Yogi Bhajan in 1968. Yogi Bhajan taught that, through the practice of Kundalini Yoga and meditation, your glandular and nervous systems are stimulated, and your capacity for creative potential is heightened. You gain inner vitality to compensate for the adverse effects of stress so you can excel in life. Kundalini yoga classes are a dynamic blend of postures, pranayam, mantra, music and meditation, which teach you the art of relaxation, self-healing and elevation. Balancing body and mind enables you to experience the clarity and beauty of your soul.
Yoga Classes at the Ashram
Kundalini Yoga is taught daily at the Ashram as part of the morning Sadhana program beginning at 4:00 am. This is not a formal class, and therefore there is no charge to attend.


Kundalini Yoga classes are now being offered at Hacienda Yoga:
Hacienda Yoga is located on Shakti Lane, just off of Yogi Bhajan Memorial Highway (State Road 106) and Shady Lane. Turn left into Shakti Lane and park immediately to your left. Hacienda is a short walk down on your right. Overflow parking is available on Prosperity Path or Narayan Court (just across Shady Lane).
| | | |
| --- | --- | --- |
| Mondays | 5:45pm - 7:00pm | Tera Kaur - Kundalini Yoga |
| Tuesdays | 5:45pm - 7:00pm | Ram Krishan Singh (LA) |
| Wednesdays | 5:30pm - 6:30pm | Jaap Kaur - Meditation Class |
| Thursday | 5:45pm - 7:00pm | Kirpal Singh - Kundalini Yoga |
| Friday | 6:00pm-7:30pm | First Friday of every month - Kirtan |
For more information go to www.haciendayoga.org
Kundalini Yoga Classes in the Area
Local centers offering classes:
Espanola
Body Basics Healing Center, Lori Garcia, Instructor, 1318 S Riverside Dr., Espanola, NM 87532 - 505-367-0847.
Espanola Presbyterian Hospital - Gentle Yoga - good for anyone with chronic health issues - Can be done on the floor or in a chair - Wednesday 5:15-6:30  at 3rd floor lounge - Free - Instructor: Jivan Joti K Khalsa PhD - Questions:

[email protected]

or 505-753-6241.
Northern New Mexico College, Espanola - Now offering Kundalini Yoga and Meditation classes - Register at the College or online. at www.nnmc.edu
Yoga SouthWest - now located at the GRD Health Clinic, 205 Los Alamos Highway, Suite C, Espanola, 505-753-3369.
Los Alamos
Pojoaque
Pojoaque Wellness Center, 101 Lightning Loop, Santa Fe. Water Yoga, Friday's, 9:00 am - 10:00 am. Instructors: Gurumeher Kaur & Jivan Joti Kaur.
Santa Fe
Purest Potential, Guruchander Singh and Kirn Kaur, 1505 Llano Street, Santa Fe - 505-982-6369.