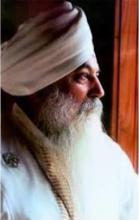 Sat Nam Dear Family
Deathlessness. What's that all about? What does it mean to you? What is it? Take a minute, sit still, close your eyes, and contemplate deathlessness. Create your own thought, 'I am deathless.' How do you see it? Where do you fit in? How do you envision experiencing it? Just close your eyes and project deathlessness.
Done? O.K. First, let me say that your version of deathlessness is yours. There's no right or wrong, no good or bad answer. Any answer leading to deathlessness is great. Deathlessness is beyond the reality of almost all students, otherwise, he/she would no longer be a student. This exercise expands the student, and anything beyond the reach of the student is great.
When I say 'student,' I really mean anyone. Actually everyone's a student whether they realize it or not. So, what I am saying is meant for everyone.
Take the image of deathlessness and hold it in your mind. Nourish carrying it with you wherever you go. Imagine that you are walking within your image.
Deathlessness is where true happiness is found. Imagine the fearlessness which comes with deathlessness. If you're deathless, what's to be feared?
I'll tell you where happiness is found. It's found in deathlessness, in the thought of it. So long as man fears death, man is just an animal. Only man has the faculty of the meditative mind to conquer death, and to become deathless.
Courage, stamina, discipline, consistency, are all required in the pursuit of deathlessness. Deathlessness may look like a perpetual, lifetime after lifetime affair. It may look like a demi-God, an angel, a throne, a stool. It may look like whatever you see. Nevertheless, however it's seen, these traits are what make your reality.
Notice that I haven't brought God into this discussion. That's because God's interference isn't required. Becoming deathless leads to totality, to it all, unto Infinity.
When a student truly becomes deathless, he/she becomes Infinite, Eternal, God Himself. God becomes your experience of deathlessness. Deathlessness means eternal life. How this is seen is the individual reality of each who is lucky enough to make his/her projection real, a true belief.This is the creative and karmic ability God has given his children.
Now, finally, God has entered the picture. Here's why. You may not need God's help in pursuing deathlessness, but God's help is a great advantage. Let me explain.
Beyond death is deathlessness; beyond deathlessness is happiness; beyond happiness there's God. Why? Because when the experience of deathlessness is channeled towards God, existence takes on an additional mantle, deathlessness takes on the mantle of truth.
In the Ayurvedic science of gemology, diamonds are very valuable. Diamonds represent Venus and Venus is the planet of love. Therefore, diamonds are extremity valuable because they carry love and add love to whatever they come in contact with.
It's the same with truth. When truth is added into any discipline like the pursuit of deathlessness, truth moves things quickly. The truth becomes a really valuable tool.
And, when truth is added to deathlessness, through the way of a spiritual warrior like Khalsa, the experience of deathlessness comes to the aspirant quickly. The image of deathlessness as a merger with God allows for a quick and easy way to this grand experience. After all, that's Guru Gobind Singh's legacy to the Khalsa.
We the Khalsa remember our heavenly father who taught us one thing: deathlessness. Akal Moorat. When you understand this line, you'll understand deathlessness Today, deal with everything in your life with the attitude of deathlessness. See what happens and see how your experience of existence changes. Stay tuned
In the Humility of Service and Gratitude,
MSS Hari Jiwan Singh Khalsa
Chief of Protocol
Sangat Representative