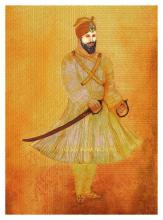 "One day, Guru Hargobind was riding on his horse. He stopped. He asked the accompanying Sikhs. He said, "There is something moving on that garbage pit. What is it?"
"Lord, it is garbage, maybe some dead animal?"
He said, "I don't know, whatever it is, could somebody go and check it out for me?"
So they checked it and they saw a child. And they said, "Sir it's a boy, it is a child. Somebody has left it here. But it's very dirty." Gundaa-i, it's dirty!
Guru said, "Nain, eh sutra hei. It's clean. Bring it over."
This boy became Bhai Sutra. From that day on, he was always with the Guru, always sitting right behind Him.
Years later, a very well respected and loved Sufi master (Pir) came to have an audience with the Guru. The Pir and the Guru spoke eloquently of God and His glory. During the conversation, Bhai Sutra was pointing his two fingers on his right hand right at the eyes of the Pir. The gentleman protested.
Then Guru said, "It is protocol. This goes with me. Do you understand what he is doing to you?" And he said, "No. He is putting two fingers right in my face, I can see it. And now I cannot even digest it. It is too harsh. I can't talk with you."
Guru said, "It is protocol. Calm down, be peaceful. Let's keep talking."
He said, "No, sir, I want to know what this man, wants"?" Guru said, "Bhai Sutra, what do you want?"
He said, "Nothing Sir. I am trying to sharpen his eyes. What he's talking is garbage. He should talk something nice. He should see something good. His eyes are not working. That's why I'm telling him, look at the right thing, not at the wrong thing."
Guru said, "What wrong thing he is looking at?"
Bhai Sutra answered, "Guru, he is looking at your jewelry. He's looking at your dress, he's looking at your throne, he's looking at your surrounding, and he's talking about God. It's two different things. So, I'm telling him to stop looking and start talking right from the heart, not from the head. And that's why I was doing that to him."
Guru said, "Did you understand this, He asked the Pir" He said, "Not before. Now I do. He's right. I was going to ask you a question in the end. Why you live so fabulously?" And Guru said, "It's not something that cannot be answered. OK, Bhai Sutra, please give him the answer."
He said, "Guru, the difference is, you live in the glory of God, and people like this are tested. I am asking this Pir, how many kilos of gold he has hidden under his prayer place? That's all I want to ask him."
He said, "No, people give me offering and I just put it there".
"Yes, yes, yes, how much?"
He said, "Maybe 1 or 2 kilos."
"No, 58 kilos by weight, Bhai Sutra responded."
"How you know." he said, "it is true?"
Bhai Sutra commented, "You see, you are even lying. You have wealth, and you cannot announce it. You have wisdom, you cannot see it. You have a character, you cannot match it. You have a personality, you cannot identify it. And you are a soul, you cannot relate it, and now you are going to miss the whole opportunity."
That's why I'm giving the fingers to your eye. See for yourself. Don't miss the opportunity."
So if I ask you today? We have walked 25 years together, I have talked to you, you have talked to me, and we have gone through lot of ups and downs. And you loved me, and you hated me, and you liked me, and you disliked me. You were very affectionate to me and kind to me and very cruel to me. You did all what you could do as humans. Hasn't time come you start now looking at yourself?"
— Yogi Bhajan, 1994