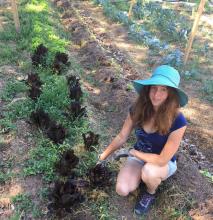 Sat Nam Community! 
We are very excited to announce the birth of Legacy Gardens at Hacienda De Guru Ram Das. We are fundraising to expand to a full-time professionally managed, year-round aquaponics greenhouse and garden that can bring in much prosperity to the Ashram community. If you would like to donate now, go to www.gofundme.com/legacy-gardens and please share our campaign on social media. 
 
The garden has been growing nicely during this summer solstice season. In-season crops that we have harvested for this weeks Langar: green leaf lettuce, chard, beet greens and kale! 
 
Legacy Garden is an Ashram based, community garden, providing healthy organic food for the Langar Program, Seva Sadhana Program, Solstice and local markets.  It also will provide jobs in the community, and classes on 4 season sustainable gardening and wildcrafting. It helps to manifest a vital piece of the Siri Singh Sahib's vision of Hacienda de Guru Ram Das, the Mother Ashram, a self-sustaining spiritual community and teaching center where people will come to heal, to grow and to nurture their soul.  In the words of the Siri Singh Sahib,
"At Hacienda de Guru Ram Das here in Espanola we have a vision and a goal that we can build a community here in its vibration and in its physical reality that any person in the least bit interested in relating to their own soul, in helping to build an Aquarian age and the future could come here." (12/1/91). 
Again: "There is a place where we were led to. It's a land, it is a dust, it is a dirt, we call it La Hacienda Guru Ram Das. We were led to that place. When nothing works the dirt of that place will work miracles."
Legacy Garden is an opportunity to build a profitable, sustainable business that will support the Ashram, provide jobs, good food, attract yogis and sevadars from around the world, enrich, and beautify our community.  
The vision of the Mother Ashram will manifest only if we make it happen.  Please find your own way to support Legacy Garden.
Current projects we are working on that you can sign up for Seva with:
Website Development and Design at LegacyGardens.guru. Please contact us by emailing Shakti Priya: [email protected]
Technical Irrigation set up and testing. Please contact John York  at [email protected]
Fundraising for Legacy Gardens Initiative. Please contact [email protected]legacygardens.guru
Donate to Legacy Gardens: www.gofundme.com/legacy-gardens