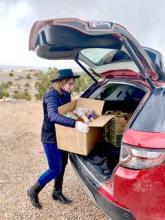 By Amanda Martinez, Santa Fe New Mexican
Inside the ashram in Española, one woman packed 120 bags last week with nutritious snacks for students home from school.
It's not something Guru Simran Kaur Khalsa is doing for the first time to address food insecurity issues.
Food 4 Kids NM volunteers have been making these bags for the last 12 years, which are distributed by schools in northern Santa Fe and Rio Arriba counties to some of the most needy students.
Khalsa, the program's director, typically wouldn't pack so many bags alone, but she said she had no choice last week, due to restrictions on the number of people who can gather and the need for social distancing amid the outbreak of COVID-19.
Until a few weeks ago, Khalsa along with 15 volunteers would pack about 415 snack bags to be distributed to students at 13 schools in and around the Española Valley.
The bags contain extra food for the weekend and are filled with granola bars, fruit juice, nuts and other items children can open and eat on their own.
There are no processed snacks, Khalsa said, and everything is vegetarian to follow Sikh dietary principles.
But the decision to close public schools statewide for the rest of the academic year also ended the program's distribution system.
"The program that we do is solely through the schools," Khalsa said. "The schools are our distribution system. The schools know which kids have the need."
While the program offered to help Española Public Schools, the area's biggest district, with serving breakfast and lunch, it did not need the assistance because schools are offering hot meals each day for pickup and delivery, said Superintendent Bobbie Gutierrez.
This didn't stop the program from finding a way to continue to serve the community.
"There are schools that have contacted me and have said that a lot of parents are now out of work. Can you give us more bags?" Khalsa said.
The 120 bags Khalsa packed went to kindergarten through sixth grade students attending Mesa Vista Consolidated Schools, which includes schools in rural areas like El Rito and Ojo Caliente.
Mesa Vista Schools Principal Richard Apodaca said they are using bus routes to deliver about 500 meals a week to students during the closure and will continue to distribute the snack bags to students who are most in need.
Making sure students get the meals and food they are used to receiving can be a comfort for them, Apodaca said.
"This is a scary time for everyone; as adults it is a scary time," he said. "One thing that was always a constant in students' lives is school and the things that come with school."
While changing a district's food distribution system is not a normal thing to have to do, the social-distancing requirements and changes to people's schedules brought on by the virus have forced some to think quickly and adapt.
"This crisis is really drawing people together very quickly," said Wendy Dolci, president of Luciente Inc., a child-focused nonprofit that serves the Rio Chama Valley. "It is great to see, and I really think that and I hope that the connections that we are making now are going to carry forward in the future whenever we get to the end of this horrible thing that's happening."
Luciente was in the process of starting a food distribution program in areas along N.M. 96 — Gallina, Coyote and Youngsville.
"People were hungry there before this, and now it is exacerbated greatly," Dolci said.
Luciente will partner with Food 4 Kids NM and augment the snack bags with additional food with enough to feed the family.
"People are good," Dolci said. "We all are passionate about what we do individually, and now we are all passionate about what we are doing together."