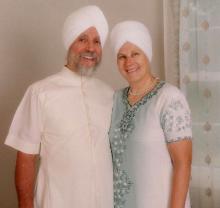 By Ongkar Kaur Khalsa
Hari Singh passed from this earthly plane at his home in the amrit vela (early morning) of November 16, 2018.
He was born in Cedar Rapids, Iowa to a "mixed race" family and over the course of his life, became a staunch champion of diversity. He had a great love and respect for the military and while still in high school, enrolled in the Marine Corps Reserves, where he served for 6 years.
In 1969, he started practicing yoga and met his Spiritual Teacher, Yogi Bhajan, who inspired him to adopt the Sikh way of life and to do a daily sadhana (spiritual practice), which he did every day for nearly 50 years!
Hari Singh is survived by his wife of 54 years (Hari Kaur), his daughter (OngKar Kaur), son-in-law (Guru Amrit Singh), son (Sat Kartar Singh), daughter-in-law (Sat Bachan Kaur), 3 grandsons (Saibhang Singh, Sat Mandir Singh and Amar Singh) and 1 granddaughter (Sukhmani Kaur).
You can visit his memorial site here >