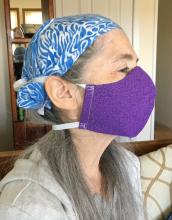 By Dr. Alan Weiss
You may question why even people who have had Covid before, or who are vaccinated, are still getting Covid these days?   The answer is simple: a highly infectious variant of Covid- the most contagious of all so far- has emerged as the dominant strain these days, more so on the East Coast than on the West Coast.  Also, vaccinations' protection against infection significantly  decreases over one year (though protection against severe disease or death last longer).     
Why do we have this new strain?  This virus continuously mutates, and as it mutates it becomes more difficult for the body's immune system to recognize it, so the virus can become more elusive and contagious).
What's the good news?  -  Far fewer people are being hospitalized or dying from this new highly infectious variant.  Even though over 1,000,000 Americans have died from Covid since 2020, we are currently (January 2023) not anywhere near the January peaks in Covid hospitalizations and deaths that we had in the last two years of the pandemic. (Around 20,000 US Covid deaths per week in the January 2021 peak, and less than 3,000 per week early January 2023.)  Reasons for this are unclear. The infectious disease experts seem to think it's a mixture of previous exposure to Covid and previous vaccinations that have created a large population  of people who have significant ability to fight Covid infections complication, or death. We also now have  improved treatment for Covid including an effective antiviral drug (Paxlovid). It would also be nice if the virus has also mutated into a less deadly strain but this is yet unproven,  and mutations are ongoing.
What's the bad news on this new strain?   Answer: the over 65 age group is suffering from the bulk of the hospitalizations and deaths from it.  (Earlier strains' severe cases were disproportionately affecting younger age groups - for reasons unknown.)
SO WHAT CAN WE DO?
We still have the same public health recommendations for vaccinations and boosters;  and in areas of more Covid, use of masks and social distancing. 
The latter, while no longer mandatory,  are still beneficial to all, especially in indoor public settings and public transit. If you are high risk because of age or other health problems, these are especially useful to you to help prevent Covid.
What's new ? – PAXLOVID availability.  Paxlovid is now proven effective to decrease hospitalizations and deaths from Covid. (78 year old President Biden took it.) If you come down with Covid, and especially if you are high risk because of age over 65 or other significant health problems, your healthcare provider may strongly recommend Paxlovid for you.
Paxlovid  must be started within the first five days of symptom onset.   Unfortunately many patients are not prescribed this because of fears about incompatibility with other common medications like blood thinners and "statins" (anti-cholesterol medicines).  However most of these incompatible medicines can be temporarily stopped (on your physician's advice only- as the risks of Covid are usually greater than the risk of stopping the medicines), for the five days of Paxlovid.   Everybody is an individual and the decision to discontinue other medicines if needed for five days should be discussed NOW, in advance, with your physician so if you suddenly come down with Covid you are prepared!
What is Paxlovid rebound? -Paxlovid knocks out the virus but when you stop taking it the virus sometimes rebounds within a few days – then your healthcare provider likely has you take another course of Paxlovid. (Just like President Biden.) The former President Trump  and other public officials may have been treated with intravenous monoclonal antibodies,  which are no longer used  because they are no longer effective against these new strains of Covid.
What should I do now?
If vaccinations are right for you, get a Covid booster (Pfizer or Moderna). The new boosters (available since last September)  are "bivalent" effective against both the old and new variants.
Have a Paxlovid action plan  (on consultation with your healthcare provider) to start within 5 days of start of symptoms if you test  positive, know who will give you a prescription if you test positive.   If you are on any medicines that may be contra-indications to taking Paxlovid, check NOW with your healthcare provider to learn if it would be ok to stop them for 5 days if you do get Covid.
Additional Paxlovid info:
What other drugs will affect Paxlovid?
Tell your healthcare provider about all the medicines you take, including prescription and over-the-counter medicines, vitamins, and herbal supplements.
Some medicines may interact with Paxlovid and may cause serious side effects. Keep a list of your medicines to show your healthcare provider and pharmacist when you get a new medicine.
You can ask your healthcare provider or pharmacist for a list of medicines that interact with Paxlovid. Do not start taking a new medicine without telling your healthcare provider. Your healthcare provider can tell you if it is safe to take Paxlovid with other medicines.
Tell your healthcare provider if you are taking combined hormonal contraceptive. Paxlovid may affect how your birth control pills work. Females who are able to become pregnant should use another effective alternative form of contraception or an additional barrier method of contraception. Talk to your healthcare provider if you have any questions about contraceptive methods that might be right for you.
Do not take Paxlovid if you are taking any of the following medicines:
alfuzosin
pethidine, piroxicam, propoxyphene
ranolazine
amiodarone, dronedarone, flecainide, propafenone, quinidine
colchicine
lurasidone, pimozide, clozapine
dihydroergotamine, ergotamine, methylergonovine
lovastatin, simvastatin
sildenafil (Revatio®) for pulmonary arterial hypertension (PAH)
triazolam, oral midazolam
apalutamide
carbamazepine, phenobarbital, phenytoin
rifampin
St. John's Wort (hypericum perforatum)
Taking Paxlovid with these medicines may cause serious or life-threatening side effects or affect how Paxlovid works.
These are not the only medicines that may cause serious side effects if taken with Paxlovid. Paxlovid may increase or decrease the levels of multiple other medicines. It is very important to tell your healthcare provider about all of the medicines you are taking because additional laboratory tests or changes in the dose of your other medicines may be necessary while you are taking Paxlovid. Your healthcare provider may also tell you about specific symptoms to watch out for that may indicate that you need to stop or decrease the dose of some of your other medicines.
https://www.drugs.com/drug-interactions/nirmatrelvir-ritonavir,paxlovid-index.html