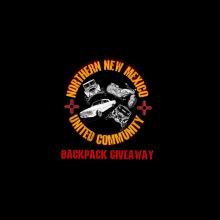 Community Service - Serving our Local Children
There is so much need in our community to help our local children have healthy and happy lives. The opportunity has come to support them in the coming school year and your help will make it successful. Local organizations are coming together in July to help make this happen.
On Sunday, July 25th, from 3:00pm-6:00pm the SXS community (led my Miranda Lopez), the Lowrider community (led by Guy Los) and the Motorcycle community (led by Jamie Arguello) along with Tilly Nichols of Espanola Valley Chamber of Commerce and community activists Ralph Martinez and Angela Duran will be hosting a School Supply Giveaway at the Century Bank in Espanola. They are aiming to fill 500 backpacks.
Items needed to fill backpacks are:
Folders x 500
Spiral Notebooks x 500
Glue sticks x 500
Pencils x 500
Crayons or colored pencils x 500
Scissors x 500
We as a community want to see our children and youth of the valley succeed this upcoming school year. The public can join in by dropping off any of the above donations and at the Langar Hall at Hacienda de Guru Ram ashram. If you have questions feel free to contact Gurumeher Kaur at 505-660-7111.
To learn more about this event, visit the Facebook event page here