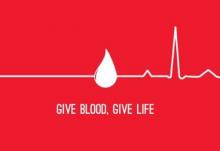 On Sunday August 25th we'll be holding our first HGRD Blood Drive.
Every day in the U.S., patients in hospitals, surgical centers and emergency treatment facilities need approximately:
    36,000 units of red blood cells

    7,000 units of platelets

    10,000 units of plasma
About 6.8 million volunteers give blood in the U.S., which is nearly 26 percent fewer donors than at the beginning of this decade. The result is nearly 4.2 million fewer donations each year. Together, we can do something about this. I recently spoke to a colleague from Sun & Son who is now working for the main local, New Mexico blood center which supplies blood to all New Mexico hospitals and I volunteered our community to help.
The Bloodmobile will be in the Akal parking lot on Sunday, August 25th after Gurdwara from 1:00 PM-4:30 PM.
It's super easy to volunteer. Just click this link to sign up online in advance and pick the time you'd like to donate. Minors will need their parent's permission.
You can find out more information by reading the FAQ  here.