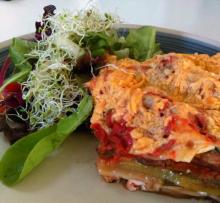 By Siri Ved Kaur
Yield: 6 servings
In 1970 I lived in a mountain commune in northern California for a month or two. This lasagna-like dish is based on one introduced to me by the friendly folks there. Thinly-sliced zucchini takes the place of lasagna noodles for a light and tasty lasagna alternative. For vegan, substitute mozzarella and Parmesan with non­dairy varieties or omit the cheese entirely.
6 medium zucchini
Olive oil
12 ounces marinara sauce
14 ounces firm tofu or ricotta cheese
¼ teaspoon salt (to season tofu)
¼ cup minced parsley or 1 tablespoon dried (to season tofu)
8 ounces mozzarella cheese, grated
Grated Parmesan cheese
Cut zucchini lengthwise into ¼-inch slices. Saute on a lightly oiled grill pan or skillet until lightly browned (they should still be bright green). If using tofu, drain and pat dry. Mash tofu and season with a little salt and parsley. Layer in casserole or baking dish: sauce, zucchini, mashed tofu or ricotta, sauce, zucchini and sauce. Top with grated mozzarella and Parmesan cheese. Bake at 400° for 20 minutes.
© 2015 Siri-Ved Kaur Khalsa
This recipe was taken from 3HO website, click here to see recipe.
This recipe can be found in From Vegetables, With Love by Siri Ved Kaur, available through KRI.
Siri Ved Kaur has been a part of the 3HO/Sikh Dharma community since 1971, when she served as Yogi Bhajan's personal cook for several years. She has authored three cookbooks (Conscious Cookery - 1978, From Vegetables with Love – 1989, and From Vegetables, with Love: Recipes & Tales from a Yogi's Kitchen - 2015) and written numerous columns for Beads of Truth, Aquarian Times, YogaMint, and HealthWorld Online. Mother of three grown daughters, she now resides in Bakersfield, California with her husband, Gurujodha Singh. https://consciouscookery101.com/