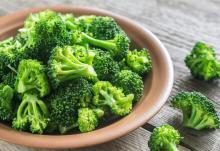 From Vegetables, With Love 
Recipes & Tales from a Yogi's Kitchen, 2nd Edition 
Siri-Ved Kaur Khalsa
This recipe is great to transition into the Fall!
Yield: 6 servings 
This dish is for problems with flu, sinus, and bronchial congestion. It also just happens to be absolutely delicious. Serve it with Saffron Rice with Almonds and Garlic (page 188), Lemon Rice (page 186), or plain steamed basmati rice. 
½ cup ghee or olive oil
½ cup chopped fresh ginger
(cut in short matchsticks)
2 onions, chopped
1 bulb garlic, chopped
2 tablespoons crushed red chiles
2 teaspoons ajwain
2 teaspoons turmeric
½ teaspoon ground cloves
1–2 teaspoons celery seeds
2–3 teaspoons cumin seeds
1 cup parsley flakes
4 cups water
1½ pounds broccoli, chopped
¼ cup Bragg Liquid Aminos or
tamari soy sauce 
Heat ¼ cup of ghee or olive oil in a skillet over a medium flame. Add chopped ginger and sauté for 3–5 minutes, stirring. Add onions and sauté until translucent. Add garlic and continue to cook until beginning to brown. Remove from heat and set aside. Heat remaining ¼ cup ghee in a large wok, skillet, or sauté pan. Over a very low flame, sauté red chiles for 2–3 minutes. Add ajwain and cook 30 seconds more. Add turmeric and sauté for another 1–2 minutes. Then add other spices and stir a few seconds. Immediately add water. Turn flame to medium setting. Stir, add parsley and onion mixture. Add broccoli. Mix well, and cook, uncovered, until the broccoli is tender. There should be enough liquid for a stew-like consistency.