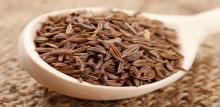 1 pound of Cumin seeds, whole
1 ounce Tamarind, fresh or frozen
Pinch Black Salt (aka sulphur salt)
One half Lemon per 10 oz. water
Black pepper (optional)
Peppermint leaves
8-10 cups of water
Place all of the ingredients into a pot. Bring water to a boil, then lower the flame and let cook at a low boil for 4-5 hours. The idea is to take the extract out of the cumin seeds. It can be drunk hot like a tea, or cold, but normally it is taken cold.
Do not throw away the seed mixture after you have boiled and strained it. When you are ready to make more tea, use these old ingredients and add fresh ingredients to them. This tea can be made in a large quantity ahead of time and stored in the refrigerator for up to a week.
Benefits: Jaalaa Jeeraa can be used by anybody, male or female, who has fat on their body. If you take 2-3 glasses a day, fatty tissues will be dissolved, and it will help prevent  fat depositing in your body.
This tea can also be used to improve the beauty of the skin and to maintain the youthful appearance. For this purpose, drink 2 glasses a day.
It also improves the digestive system. It has been called the "buddy of the colon," since it cleanses all of the mucous out of this area.
The tamarind in this recipe is a good source of Vitamin C. One ounce of tamarind provides about a hundred thousand units of Vitamin C.
This recipe was taken from ​KRI Newsletter Archives: 2010 March Newsletter.