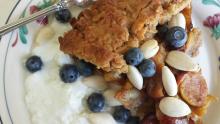 Since all the jujubes on our tree will be rotting on the ground within a week or two, I realized it is about time to make my annual Jujube Crisp (What are jujubes? See my prior post "Pickins from the Tree" ). I thought it would be nice to share the crisp with some friends I would be visiting in another hour or so.  Out in the backyard I picked a a bowlful, looking for firm ones that weren't all shriveling up. Back in the kitchen I turned on the oven to start preheating and then set to work slicing up the jujubes. Twenty-five jujubes sliced up were enough to make a little over 4 cups; the perfect amount (probably 5-6 cups would be max).
Jujubes are very tasty when baked, however they are not particularly juicy. You need to keep this in mind when baking jujubes in anything like pie, crisp, or cobbler. If you want a moist  filling, you will need to add a little water or other liquid. I tossed in some cinnamon, a little bit of flour, and all the honey I could squeeze out of my honey bear (probably about 1/3 cup). I figured a squeeze of lemon and a spoonful of water would give just the right flavor and a little extra moistness.
With the filling done, it was time to grease my baking dish. A little tip for greasing baking pans is to save the waxed paper wrappers from butter cubes. That little bit of butter left on them is perfect for smearing on your cookie sheet or pie pan! However, today I did not have any butter wrappers so I sprayed my baking dish with olive oil. Then I spooned the jujube mixture into the pan and set to making the topping for the crisp.
All of a sudden I noticed a terrible burning smell, then spun around and saw smoke billowing out of the oven! Note to Self: Always check interior of oven before turning it on! I had completely forgotten about the yogurt incubating in there since morning (I thought the oven would be a great insulated environment) with the containers all wrapped up in a big towel to keep them warm. Oh No!!! I opened the oven door and to my horror saw the towel was on fire! At least they weren't gigantic terrifying flames, only small terrifying flames.
I picked up the containers and the towels in one fell swoop, instantly transported them over to the sink and doused the whole thing with water. Disaster averted. Thank God. Luckily, the flames had only ruined the towel and not the yogurt, the oven, nor burned the house down. I set my yogurt jars on the counter where they should have been in the first place, wrapped in a fresh towel and threw the burned one in the garbage bin. Lesson learned: I will never everever put yogurt in my oven again.
With a newly fortified sense of gratitude and purpose I returned to the jujubes and got started on the topping. Normally I would use cold butter and an unrefined sugar for my crisp topping. However, I had no butter, nor any type of sugar, and no time to run to the market. So I made do with honey and maple syrup and the barely 1/3 cup of room temperature ghee I had on hand. This meant changing up the topping process a little bit. Instead of combining the dry ingredients and then cutting in the butter, I first combined the wet ingredients (ghee, a,smidgen of honey, maple syrup, and vanilla) in the bowl (no need to clean up from the filling) and then added the dry. After putting the wet ingredients into the bowl I interpreted the delightful result as a good sign and sensed some cosmic laughter going on. After mixing these together I added a cup of oats and a half cup of flour.
Clearly this was neither going to be a crumbly nor a crispy topping with all that moisture. I added a little more flour knowing I could find myself in an endless cycle of adding more dry, but then needing more honey or maple syrup for more sweetener. This was more like a stiff cookie dough and a bit too much of it. I put it all on top of the jujube  mixture, careful not to mix it or smoosh it down too much, and arranged it all over the top and to the edges. Ready to bake!
Exactly 38 minutes later the jujubes were soft and the topping was beautifully browned. I had it out of the oven and ready to go just in time to get to my friend's home by the promised hour. I took a little corner of topping for a taste test: a bit more like a cobbler than a crisp, not too sweet, and not too bad at all! I realized it would be absolutely and perfectly fine.
My girlfriend and her family were surprised and delighted to see I'd brought dessert. They happened to have some cream in the fridge.  A wire whisk and a little elbow grease later, the cream was whipped into perfect soft peaks. The Jujube Crisp was still warm from the oven. The dollop of whipped cream was simply divine. The result was a room of happy friends and family enjoying every bite!
Come morning, the leftover crisp made a terrific breakfast warmed up and served with the goat yogurt that nearly burned the house down, some wonderful raw soaked & peeled almonds, and a handful of organic blueberries. What a super breakfast which was made even more perfect with a cup of freshly brewed Yogi Tea.


The recipe below is how I would have made my crisp if I'd had the right ingredients on hand. Even though I used ghee instead of butter and substituted honey and maple syrup for sugar, my results were quite tasty (i.e., in a pinch don't be afraid to make do with what you've got at hand).


Jujube Crisp with Raw Almonds

A lightly sweetened crisp that makes everyone happy at breakfast time, served with a few spoonfuls of plain yogurt. For dessert, top with your favorite ice cream or whipped topping. Both ways, it's best warm. See if your guests can guess what the filling is. Select fresh and firm jujubes that are mostly green or at least partly green. Once they are mostly or all red, they are starting to shrivel and won't be suitable for this dish. You will need a small (1-1/2 or 2 quart) shallow baking dish. For best results always use cold butter. Its air and moisture content are essential for a light and crispy topping. The water evaporates, the air expands, and voilà: Tiny air pockets! Using softened or melted butter will taste yummy, but will result in different texture.
Topping:

1/2 cup plus 2 Tbsp flour

1/2 cup unrefined sugar (Sucanat, coconut, date, or maple sugar) or 1/4 cup honey or maple syrup

3/4  stick  (6 Tbsp) cold butter, cut into small cubes or thin slices

1/2 tsp. vanilla extract

3/4 cup rolled oats
Filling:

4-5 cups pitted and sliced jujubes (about 25-30 jujubes)

1/3 cup light honey, maple syrup, or unrefined sugar

2 tsp. lemon juice

1-1/2 Tbsp. water

1/2 tsp. cinnamon

2 tsp. flour

1 Tbsp. butter or ghee
Serving Toppers:

3/4 cup raw almonds, soaked at least several hours in water, then peeled

Plain yogurt, whipped cream, ice cream, or similar
Preheat Oven: Make sure nothing is in there that can catch on fire and then preheat to 350°.
Topping: Combine flour and unrefined sugar in mixing bowl.With a pastry blender, 2 forks, or 2 knives  cut in the cold butter. Sprinkle with vanilla extract. Combine to a coarse and mealy consistency. Now add the oats and toss and squeeze together with your hands so little lumps form. Pop in freezer or refrigerator to keep cold while you prepare the topping.
Filling: Combine all filling ingredients (except butter) in mixing bowl. If you like, add a small handful of currants or chopped nuts. Lightly grease a small casserole or 8″x8″ baking dish. Add jujube mixture. Dot with butter or ghee. Scatter the chilled topping   mixture on top of the jujubes, spreading it all the way to the edges of the dish.
Bake & Serve: Bake 35-40 minutes in the preheated oven. Insert a sharp knife into the center. It should easily pierce through the filling. If not, bake a little longer (cover with foil if it is already plenty browned so it doesn't get too dark). Serve warm. For breakfast, serve with a big spoonful of plain yogurt and  top each serving with a scattering of whole peeled almonds. For dessert, serve with your choice of ice cream, whipped cream, or similar topping. Garnish with almonds.


Recipe taken from Conscious Cookery blog by Siri Ved Kaur