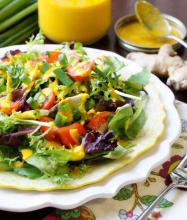 Japanese Restaurant-Style Carrot Ginger Dressing
A sweet and spicy dressing similar to the popular dressing served at Japanese restaurants.
COURSE: SALAD
SERVINGS: 
CALORIES: 216 KCAL
AUTHOR: DETOXINISTA.COM
Ingredients
1 cup shredded carrots (about 2 medium carrots)
2 tablespoons fresh chopped ginger
1/2 cup chopped onion
3 tablespoons raw coconut vinegar
2 tablespoons raw honey
1 tablespoon toasted sesame oil
1/2 cup extra-virgin olive oil
2 tablespoons water
3/4 teaspoon salt
Instructions
Combine all of the ingredients in a blender, and blend until completely smooth. (If using a high-powered blender like the Vitamix, there's no need to shred the carrots beforehand!)
Like most dressings, the flavor gets better over time, so I recommend chilling it in the fridge for an hour or two before serving. Store leftovers in a sealed glass jar in the fridge for up to 4 days.