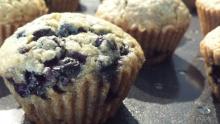 It was my granddaughter's sixth birthday and we wanted to make some healthy treats that she could share with classmates at her Montessori school. Something yummy and kid friendly, that's not too sweet. I remembered my recipe for 4-Grain Pan Bread, and thought it would make perfect little  muffins, and even more perfect blueberry muffins!
The batter is really easy to put together. First combine all the dry ingredients, then add oil and honey. The next step gets the chemistry going… that's when you add the milk and hot water. I recommend using buttermilk instead of regular milk, but you can use any type of milk along with a couple teaspoons of apple cider vinegar in its place. The combination of buttermilk/vinegar, baking soda (which is also in the baking powder), and hot water makes the batter nice and light. The trick is, to mix it as little as possible. The more you mix it, you will break down the air pockets created by their interaction.
We made  our muffins in the smaller cupcake size tins. My daughter had these nifty silicone muffin tin liners. But paper liners or simply greasing the pan would work fine. For larger muffins, this recipe would yield 8-9 muffins, and of course they will need to bake longer.
Don't they look super?! They were super good too!
4-Grain Blueberry Muffins or Squares
Yield: 18 muffins or about 12 squares
These are very kid friendly, not too sweet, and perfect for breakfast, lunch treats, or snacks. Simply delicious just the way they are. The oil really contributes to their rich flavor, but if you like, you can substitute up to 3/4 cup of oil with milk or buttermilk. For a dairy-free version, simply use any other milk (hemp, almond, rice, soy), either unsweetened vanilla or plain, along with 2 tsp. of vinegar.
2 cups whole wheat flour
1½ cups oat bran (you could use flax seed meal or hemp meal for some of this)
½ cup cornmeal or corn flour
½ cup millet or millet flour
1 tablespoon baking powder
1 tsp. baking soda
1 teaspoon salt
1½ cups oil (safflower or sunflower are fine)
½ cup honey or agave nectar
¾ cup milk (any type, unsweetened)
1 cup boiling water
2 tsp. apple cider vinegar
1 cup fresh blueberries
Preheat oven (360° for muffins or 375° for pan bread). Combine dry ingredients in medium mixing bowl. Add oil, honey and milk and combine gently. Add vinegar to hot water and then add to the mixture, ½ cup at a time, while gently turning batter with a big spoon or spatula to combine. Do not over stir or beat. Fold in  blueberries to gently combine. Spoon into greased muffin tins (or place silicone/paper baking cups in muffin tin) with batter nearly to the top. For blueberry pan bread, pour into greased 9×12 baking pan. Bake muffins at 360° for 28-30 minutes or pan bread at 375° for 35-40 minutes, until golden brown and just separating from edges of pan. A clean dry knife inserted in center should pull out clean. Let cool 10-15 minutes before removing from pans or silicone cups. Enjoy!
Recipe taken from ConsciousCookery101 blog by Siri Ved Kaur.