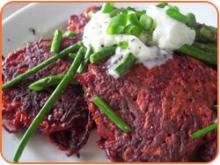 A Yogi Bhajan recipe modified by Guru Meher Kaur
When I was in my late twenties, I had a sudden bad breakout of acne on my face. I remember Yogi Bhajan making comments on how bad my acne looked (only because I was so overly concerned with my appearance). At any rate, he put me on a beet millet pancake diet for 40 days. (As you may know, beets are an excellent food for cleansing the liver.) This was really one of the most delicious healing diets I ever went on. Something about eating fried pancakes  with a crunchy crust was so satisfying. Now when I make them I eat mine with a little mustard on top and some yogurt, but my husband prefers them with catsup.
When you make this recipe you may have to make adjustments with the amount of millet and besan flour you use, because of the size and juiciness of your beets. Also you can become as creative as you wish with the spices, depending on what flavors you enjoy. You might try adding curry powder or hot chilies for a different taste. Enjoy!
Ingredients
2/3 cup millet
2 cups water 
3 red medium-sized beets, cooked,peeled and grated
2-4 Tablespoons besan (garbanzo) flour
Ghee or vegetable oil, as needed
Garlic powder
Onion powder
Chili powder
Salt
Directions
Bring water to a boil and add the millet. Lower heat, cover, and cook for 25-35 minutes until completely soft. Using the grating attachment in a food processor or by hand, grate the beets. Mix the grated beets with the millet in a mixing bowl. Depending on the size of the beets, you may not want to add all of the millet. You want about equal parts beets to millet. Add enough besan flour to the mixture until it is stiff enough to form into patties.  Add spices to taste. Coat a small sauté pan with a little oil and put it over medium heat. Place the patties in the pan and cook until browned on each side. Continue with the remaining mixture. Arrange the patties on a serving platter and serve immediately with sour cream or yogurt.