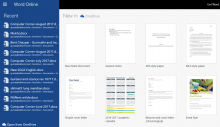 Did you know that you can use Microsoft Office on Windows or Mac for free?



Interested in using Microsoft Office -- either the one-time purchase Office 2016 or the subscription-based Office 365, but not yet sure you want to shell out the money to pay for it? Well, don't open your wallet just yet. There are ways you can check out Microsoft Office for free to see if you like it before you spend your hard-earned cash.



Here's how to get started: try out the free Office Online version, which offers Word, Excel, PowerPoint, and more. Though this version lacks the set of features of the desktop edition, it will at least give you a taste of the full suite. You can check out a free 30-day trial of Office 365 to see what you think of it.



Alternately, At Microsoft's TechNet Evaluation Center, you can access and use an eval version of Office 365 for up to 30 days. And if you're a student or teacher at a qualifying school, you may be able to snag Office 365 for free.

Let's look at the different ways you can take Office for a free spin.
A Look at the free Office Online Edition
Office Online lets you use the web-based versions of Word, Excel, PowerPoint, and OneNote. You also gain access to OneDrive to store your files. Fire up your browser and head to the Office Online webite. Select the application you wish to use. Let's pick Word. You can then choose one of the custom templates or opt for a blank document to start.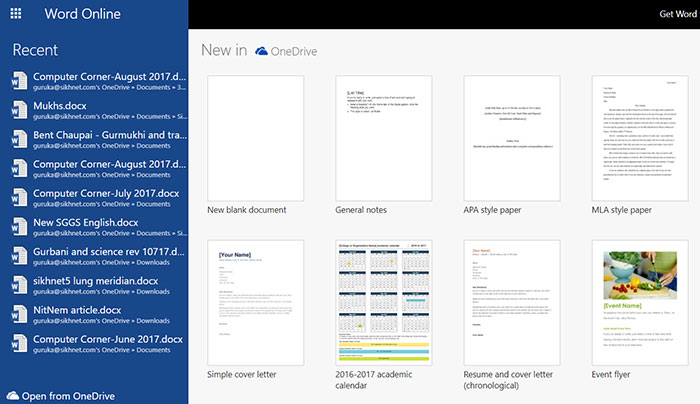 You'll find most of the basic Word commands available. Again, the online version lacks the full array of features offered by the paid desktop edition. But you can at least get a feel for the full program this way, and you may even find the online edition sufficient for your needs. You can then check out the online flavors of Excel, PowerPoint, and OneNote to see how they work and determine if you still need the full paid edition.



So, what about the paid version of Office? The suite currently comes in two varieties: Office 2016 and Office 365. What are the differences? Whether bought in a store or online, Office 2016 is a one-time purchase product geared for a single user on a single machine. You can use this edition of Office for as long as you like, but you'll have to pay for the next version if you want to upgrade.



Office 365 is a subscription-based product for which you pay an annual fee if you want to continue using it. For that fee, you automatically get each new version of Office as long as your subscription stays alive. For $69.99 per year, Office 365 Personal can run on one Windows PC or Mac, one tablet, and one smartphone. For $99.99 per year, Office 365 Home can run on five Windows PCs or Macs, five tablets, and five phones. I use Office 365 Home and have office on all my computers, my phone and my iPad, all with a single annual license.  That's a good deal. But read on, it's even better. You never need to upgrade or update Office, it stays current automatically as long as your annual subscription is active.



Otherwise, Office 2016 and Office 365 offer the same features and commands, with one caveat. Microsoft periodically upgrades Office 365 with new features, while Office 2016 basically remains the same. But whichever version interests you, you can check out a free 30-day trial of Office 365 Home to see what it's like. Head over to the Office 365 website. Under the entry for Office 365 Home, click on the button to Try for free.
At the Try Office 365 for free page, click on the button to Try 1-month free. Log in with your Microsoft username and password. Follow the steps to get Office 365. Though you're signing up for the trial version, Microsoft still requires a credit card or other means of payment. So, if you don't want to pay the annual fee to keep using the software, be sure to cancel your subscription before the 30 days are up. To cancel, log into your Microsoft account page. Click on the menu for Services & subscriptions. Click on the Manage link next to your Office 365 subscription. Then click on Cancel to put the kibosh on your subscription.



The trial version of Office 365 Home is the same as the paid version, so you'll get a feel of all the features and commands in Word, Excel, Outlook, PowerPoint, OneNote, and the other applications and services.



There's another way you can try out Office 365 for free for up to 30 days. You don't have to give up your credit card information but you do have to go through a lengthy registration process. Browse to Microsoft's TechNet Evaluation Center Sign in with your Microsoft account. Click on the Evaluate Now button. Click on the link for Office 365 Pro Plus. You'll then need to register to continue.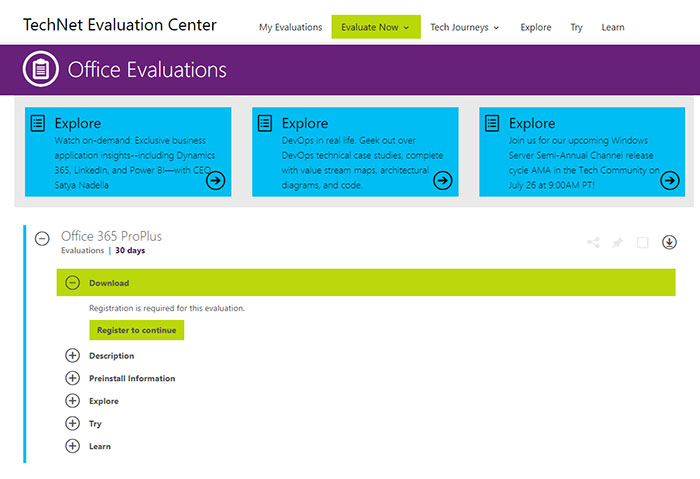 Follow the steps and pages to register. The registration process asks for a company name since the evaluation technically is geared toward businesses. But you can enter any appropriate company name to go through the process. After you're registered, you can download and install Office 365 Pro Plus with full access to Word, Excel, PowerPoint, OneNote, Access, Publisher, Outlook, Skype for Business, and OneDrive for Business for 30 days.



If you decide you want to continue using Office after the 30 days are up, then head over to the Office 365 website to sign up for a subscription.



Finally, you might be able to score a free and permanent subscription to Office 365 if you're a student or teacher at a school that uses Office. The educational edition offers Word, Excel, PowerPoint, OneNote, and other applications as well as various classroom tools. Your school not only needs to use Office, but you must have a valid school email address to qualify. Initially available only in the US, the offer is good for students and teachers around the world. Students can sign up for the offer at the Get Office 365 for free website for students. Teachers can take advantage of the offer by visiting the Get Office 365 site for teachers. Enter your school email address and click on the Get Started button. Then just follow the pages to access and download Office 365 Education edition.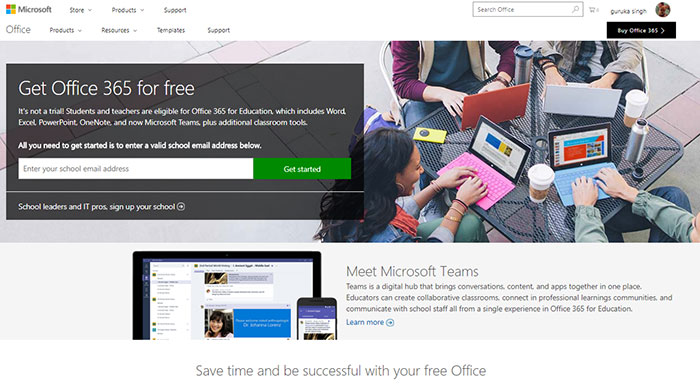 Finally, if you do decide to purchase Office 2016 or Office 365, you'll want to shop around. Microsoft's prices for Office aren't necessarily the cheapest way to go. You can often find better deals at Amazon and other third-party retailers.



A tip o' the turban to Lance Whitney for the content of this month's column.



Please share your tips or experiences with your own tech with the Sangat. Email me and tell me your story, and keep sending me your suggestions for column topics, along with your own favorite smartphone app recommendations and reviews so I can share them here. Just email them to me at [email protected]