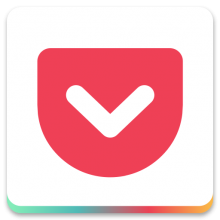 Ever find a shopping item or an article, video, picture or blog post you really want to hang on to, but simply don't have time to deal with at the moment? OK, Pocket is the simplest way I know to to save all that stuff so it'll be there when you need it. Everything you put in your Pocket is stored in the Cloud and encrypted. You can even share any Pocket item by clicking the share link and Pocket will email a link and short summary to whomever you share it with.
Pocket is baked right into Firefox browser, but for your mobile devices and other browsers you'll need to download the Pocket app on your phone or tablet, or install the browser plugin for Chrome or whatever browser you're using.

You'll find the Pocket icon right in the Firefox address bar
---
---
Once you've done that, you can put articles, videos or pretty much anything into Pocket right at the moment you first see it. It doesn't matter whether you're on your phone, computer or another device. On your phone, just tap the action button and Send to Pocket.

Send to Pocket on an iPhone
You can save anything directly from your browser or from apps like Twitter, Flipboard, Pulse and Zite, and you can find anything you put in Pocket at a moment's notice on any device. The search bar extends across your entire Pocket, so you can instantly find items in both your List and your archive. You can even sort results by relevance or recency of saves, and Recent Searches let you easily access your previous and most often-used searches.
Sold yet? Well, it's free! Yes, there's a "premium" version which gives you full text search inside of items you've saved (not just the title or tag) and a few other features, but the free version probably does everything you need. It does for me.
You can help make this column better by sharing your topic suggestions, tips or experiences you have had with your own tech with the Sangat through this column in our Ashram newsletter. Email me and tell me your story, and keep sending me your suggestions for column topics, along with your own favorite smartphone app recommendations and reviews so I can share them here. Just email them to me at guruka@sikhnet.com