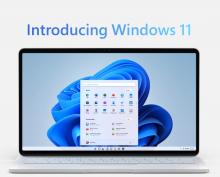 Windows 11 will be officially released on Tuesday, October 5th.
So why would you care? Well, it's not only a lot more beautiful than Windows 10, but it's also a faster, more stable and more elegant operating system.
As I mentioned in my last column on Windows 11, Windows 11 is not simply a facelift for Windows 10. It's a lot faster and smoother due to under-the-hood changes that make Windows 11 feel snappier, more responsive, and generally better performing than Windows 10.
Here is Microsoft's Windows 11 website.  If you'd like to find out if your computer supports Windows 11,  Microsoft has polished up its PC Health Check app, used to determine whether or not your system meets Windows 11's demands.
There is often criticism leveled at Microsoft, frequently unjustified. But when it comes to explaining the system requirements for Windows 11, the company did an appalling job and thoroughly deserves the condemnation the poor communications caused -- particularly when it comes to the requirement for TPM 2.0. "TPM" means Trusted Platform Module. It's simply a security/encryption chip inside your computer.
To be officially supported by Windows 11, machines will need TPM 2.0 support; an eighth-generation or newer Intel Core processor, a Zen 2 or newer AMD processor, or a suitable Qualcomm system-on-chip; UEFI Secure Boot; at least 4GB of RAM memory; and a minimum of 64GB of hard drive storage. That means you need a fairly recent computer.
Now, that Windows 11 is starting to roll out, Microsoft has decided it's time to be a little more helpful. In a support document, the company explains in approachable language what TPM 2.0 is. But more importantly, the document also reveals how to check whether your computer has TPM 2.0 and how to enable it.
Microsoft doesn't want to say it publicly, but it will not stop you manually installing Windows 11 on older or otherwise incompatible PCs. What it doesn't say out loud is that these hardware requirements will only be enforced if you upgrade from Windows 10 to Windows 11 through Windows Update.
If you, for example, install the Operating System manually by downloading and creating installation media such as a DVD or USB stick, rather than using Windows Update, the hardware checks will not be performed, and your older PC will not be blocked from running the operating system. 
If you run Windows 11 on non-supported hardware, you're on your own without any support, any guarantee of security patches and software updates, nor any sympathy from Redmond: Microsoft claims "devices that do meet the minimum system requirements had a 99.8% crash free experience," and those that did not "had 52% more kernel mode crashes."
To me, it appears Microsoft does want some people to know that they can try to use Windows 11 on their PCs, regardless of the hardware requirements, and at the same time, it does not want to openly condone the use of its OS on unsupported machines. Similarly, you can use the ISO install route to put and activate Windows 10 on your PC for free using a Windows 7 or newer product key, another little detail Microsoft doesn't promote.
Microsoft says it set the requirements of Windows 11 to improve driver reliability; improve security by, among other things, encouraging password-less authentication and using virtualization to protect the kernel, access credentials, and suchlike; and improve stability by narrowing the range of supported computers.
We're at the point where Windows 10 releases and Windows 11 releases will be splitting off into two branches. If you upgrade to Windows 11, drop me a note at [email protected] and let me know how you like it.