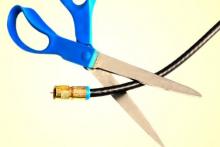 Entertainment in the streaming media era
Thinking about "cutting the cord?" Me too... but so far I've learned that dropping satellite or cable and relying only on the Internet isn't easy.
Watching your favorite shows can mean coping with different platforms, sorting through confusing connectivity options, and working out the restrictions imposed by each streaming service.
Watching media
The first question to ask is "How fast is my Internet connection?" Does it seem to be more offline than on? Without a solid Internet data connection, cord-cutting won't be a good option for you.
If you can get a solid, steady 6 mb/s or more, congratulations, you are a candidate for cord-cutting
Viewing media over an Internet connection is a somewhat fractured experience. We're Dish Network subscribers, and trying to recreate our usual at-home TV experience without using the satellite is a lesson in matching up shows, services, and platforms.
First, random TV surfing will no longer be a reasonable option. Secondly, watching our favorite shows involves a somewhat tedious process of figuring out where and how they would appear.
Watch it here — not there
There are a dizzying number of devices and applications you can use to watch streaming media: smartphones, tablets, computers; casting gadgets such as Fire TV and Google Chromecast; and the so-called "set-top boxes" (STBs) like Roku and Apple TV. And then there's the ability to send streaming media from phones, tablets, and personal computers directly to a smart TV. In our house, we rely on Amazon Firesticks and a Media PC.
There's no single good solution in a "cordless" setting. Hardware aside, each streaming service imposes its own restrictions on what you can watch and where — especially when you're away from home. And while watching specific shows at home is a simple matter of changing channels with a remote, doing so without a cable or satellite box often requires extra steps — such as proving you're a subscriber to your cable or satellite provider. Even then, your choices are more like streaming movies and TV shows through Netflix than watching a live television station. (And, unlike Netflix, you still get commercials.)
If you like watching local news, watching it over the Internet can be a real challenge. Roku includes an app that will stream local news, but it comes with area-specific limitations. We use an antenna on the roof of our house connected to our Media PC to watch the local New Mexico TV stations. Hulu also allows live, local TV on its premium subscription, though it's still nothing like cable.
Of rabbit ears and old faves
If you live in an urban area, going retro with an indoor antenna can help with cord-cutting. Here in Espanola, an indoor antenna is usually not sensitive enough to pick up local digital TV well. But you can't use that old contraption on the roof; you need to purchase a good digital antenna — any store that sells TVs should have a selection. I mounted ours on a pole attached to the side of the house. This gives it enough elevation to capture all the local stations. Antennas work well if they are high enough and they are aimed correctly. We receive the main network channels, CBS, NBC, ABC, PBS, etc. plus many other stations broadcasting a mixture of regional television, language-specific broadcasts, and old television shows for a total of 19 stations.  If you are into nostalgia, you'll find lots of classics delivered over the air. Think "Gunsmoke" and "The Andy Griffith Show." You might be surprised that local stations continue to broadcast over the air, but actually, free to all, over-the-air television is mandated by the federal government.
Addicted to British detective series?
Streaming over the Internet gives access to international television channels that are probably not on local cable. For example, BritBox and Acorn TV, which you can easily add to any Amazon Prime subscription,  showcase numerous shows from the UK, Australia, and New Zealand. We also stream BBC iPlayer online, but you must be on a UK Internet connection so you must use a VPN service such as ExpressVPN, which is the one we use.
Another option: Sling International offers foreign-language shows and films, many with English subtitles. It's a good way to brush up on your foreign-language skills.
By the way, you can subscribe to HBO or Showtime "a-la-carte" from many online providers including Amazon Prime. You simply add just the services you want to your Amazon account.
Following the rules for streaming local TV
I discovered one interesting wrinkle with Hulu, which has an option for receiving live TV. Hulu allows only four "moves" a year. (You can, however, view Hulu content away from home, whenever you like, via portable devices such as a smartphone or tablet. But even that has gotchas you need to consider.) So, if you are using it to watch local TV pretty much in one place, you're set.
Looking for publicly available hotspots
Many Internet providers such as Comcast and AT&T provide public Wi-Fi connections (hotspots) for their subscribers. These hotspots (more info) provide two types of connections: one that's secure and has the SSID "XFINITY," and another — xfinitywifi — that is unsecure and open to anyone. (The unsecure hotspots use a lower level of connection encryption.)
Sharing a cellular plan among devices
Sharing your phone's cellular Internet connection with other devices is a viable cutting-the-cord option — if, again, you know the limitations. I considered switching to an Unlimited Plus plan on my Verizon account, but it's expensive. Less-expensive plans come with less data, but there are also limitations on devices. I found plans that would include my phone, X1 Carbon laptop (with built-in cellular), and iPad Pro (also with cellular) — and provide more data capacity. But none of the plans was substantially better than what I already have.
So keep an eye on your data usage if you are using your cellular connection to stream.
What about VPN?
You might have seen recommendations for using Virtual Private Networks (VPNs) when connecting to Wi-Fi outside your home or office. But surprisingly, there are times when VPN introduces more risk. Recently, a security post flagged several VPN vendors as having unsecure connections and for being out of date. I would especially avoid the free VPN services; there are reports that they could contain malware.
So what's a wise geek to do? Think before you connect — think about what you plan to do, and think about the security and privacy of the service you're connecting to. If you have any doubts, simply don't connect. If you don't control the connection, you don't have control over its security. That said, I do trust the VPN service I recommended above. (ExpressVPN)
Remember that if you try cutting the cable (or satellite) cord,  your viewing habits will most likely have to change. But that's not such a big deal. Why not just pay for the things you actually like to watch and not for all the stuff you don't watch.
That's it for this month. Just a quick reminder to please share your tips or tech experiences with the rest of the Sangat. Just email me and tell me your story, and keep sending me your suggestions for column topics, along with your own favorite smartphone app recommendations and reviews so I can share them here with the rest of the Sangat.