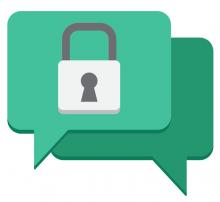 Sat Nam! With our reduced opportunities to connect with each other physically in the age of COVID-19, it's easier than ever to feel isolated. Making connections with each other now is more important than ever.
It's just a short hop from the 90's when we texted each other with keypad flip phones to today's sophisticated encrypted messaging apps. If your life is anything like mine you've been spending many, many hours on Zoom, Apple Facetime, Whatsapp, facebook messenger, iMessage, Google Meet, Skype, Signal, WeChat, Telegram or one of the other messaging apps out of the plethora that exist now. In fact, new encrypted messaging apps seem to be cropping up every day!
My inspiration for this month's column was to write a detailed comparison of the main encrypted messaging apps to help evreyone decide what apps worked best for them, but then I discovered that a gentleman by the name of Arjun Sha had already written a really good article on this subject over on Beebom.
"Currently, WhatsApp is the largest messaging service in the world with over 2 billion monthly active users. Following that, Telegram accounts for 400 million and Signal stands at a ballpark of 10-20 million monthly active users. Looking at the raw numbers, it's clear that WhatsApp is wildly popular and almost ubiquitous while Telegram is catching up and Signal seems to have just joined the million downloads race. Having said that, numbers don't tell you everything and that's why we bring you a detailed comparison between WhatsApp vs Telegram vs Signal.
In this article, we rigorously analyze the security models of all three messaging services and also look at their distinct features. Now with all that said, let's go through the article and find out who wins this battle."
                                                    Continue reading the full article here