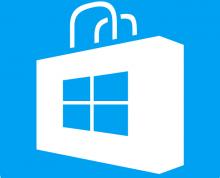 Microsoft has come along with some helper apps that are in various stages of development. Many are released broadly for Windows 10 while others are currently being tested by Windows Insiders in the Fast, Slow, and Release Preview Rings of the program. That's right – the three rings in the Windows Insider Program are not just for testing updated development builds for the next feature update to Windows 10. Many of the app development teams now use these rings to test their apps and new features in a smaller test environment. If you do not want to test early development builds, then Release Preview, which doesn't get builds until very late in the development process, is the perfect spot to help test out new features in some of these apps.
Let's check out a few of these apps.

Newer builds of Win 10 include the Windows 10 Photos App
The Photos app from Microsoft is pinned to my Start Menu right alongside Polyview and Photoshop because it is the one app I use for general photo management and basic edits.
It connects to your Pictures directory on the local device plus your OneDrive photos that are stored in the cloud and provides a timeline view of your image collection. It can perform several functions that will suffice for most users:
Cropping

Resize using Small, Medium, and Large sizes

Multiple filter overlays

Redeye removal

Inking/Drawing support

3D Effects

Animated text

Video creation with music and other effects

Image tagging to facilitate easier search plus some AI is used to help identify objects in your images

Image import from USB devices and option to add other folders containing images

System-wide sharing to supported apps
Windows 10 Your Phone App
Microsoft has been trying all kinds of methods to connect our mobile messaging to our desktop over the years. Messaging Everywhere, Cortana and Skype are three examples. None of them have stuck or been widely adopted but I think the Your Phone app has the potential to become the defacto mobile messaging service for Windows 10 moving forward.
Right now, Your Phone supports SMS messaging and seeing your last 25 camera roll images from your supported smartphone. The best Your Phone experience is using an Android device with the Your Phone Companion mobile app.
For those of you on iOS, this is not going to be the same level of experience because of restrictions that Apple has on access to certain areas of iOS.
Upcoming features that we have heard about and seen include pushing your mobile notifications to your Windows 10 device and mirroring apps from the phone to the desktop. Those mirrored apps will be accessible using touch, mouse, and keyboard on your desktop, laptop, or even tablets. There are already some indications that we will also be able to use the Your Phone app to take calls on our Windows 10 devices when they ring on our smartphones.
There is no reason to think that multimedia messaging won't also be supported in this app down the road.
Typing texts from my desktop is so much easier than typing them on a small screen when I am working, so I really like this implementation.
Windows 10 Snip & Sketch App
Beginning with the Windows 10 October 2018 update, Microsoft phased out the popular Snipping Tool that has been part of Windows 10 since its initial release back in July 2015.
This handy tool is being replaced by the Snip & Sketch app that includes features that allow you to use a new shortcut, pressing just the PRINT SCREEN button on your device, to open a small toolbar at the top of your screen to grab snips of activity on your device. There are options to grab rectangular, free-form, or full-screen snips.
Recent app updates have added options to capture delayed snips (3 or 10 seconds) and the team is planning to add the ability to capture open app windows.
Notifications for snips are listed in the Action Center and from there you can open them up in the Snip & Sketch app. From there you can annotate them using inking, highlighting, and other tools. Once complete you can save them to your local or OneDrive cloud storage.
If you share a lot of snips to social media, the snip action of the new tools do store that snip in the clipboard so it is immediately available to paste into other apps including Twitter, Facebook, and other apps.

The premise is very straightforward – as you are working on your Windows 10 device and copy items like text and images, they are being stored, not just locally, but in the Cloud so everything copied can be re-copied and accessed across all your devices. Images can be shared across devices and text snippets are too, so you can easily access those items on other supported devices.
Clipboard items listed in the Ditto Clipboard are not cleared on each restart of your system so you can always access your stored clipboard and pick anything from it.
Windows 10 Sticky Notes App
The initial version of Sticky Notes for Windows 10 was a local-only app that did not sync your notes across devices. The 3.0 version of Sticky Notes adds that capability and uses the OneNote sync engine to keep those notes aligned across all your supported devices.
You can use Sticky Notes to sync key text items across devices rather than the Ditto Clipboard. You don't have to worry about losing that entry if you restart your device. By adding it into a note, that is shared across devices and is available almost immediately for use
Since I move between devices during the day, I find using Sticky Notes Version 3.0 the best way to move text data between systems as I am working. Sticky Notes, unlike Ditto Clipboard, does not support sharing images through the app across devices, but that is solved easily enough using OneDrive and the Screenshots folder.