Kundalini Yoga
Kundalini Yoga is uncoiling yourself to find your potential and your vitality and to reach for your virtues. There is nothing from outside. Try to understand that. All is in you. You are the storehouse of your totality." --Yogi Bhajan Kundalini Yoga, the Yoga of Awareness, was brought to the West by Yogi Bhajan in 1968. Yogi Bhajan taught that, through the practice of Kundalini Yoga and meditation, your glandular and nervous systems are stimulated, and your capacity for creative potential is heightened. You gain inner vitality to compensate for the adverse effects of stress so you can excel in life.
Kundalini yoga classes are a dynamic blend of postures, pranayam, mantra, music and meditation, which teach you the art of relaxation, self-healing and elevation. Balancing body and mind enables you to experience the clarity and beauty of your soul.
The Kundalini Research Institute is a non-profit corporation housed near the Ashram in Española. Their mission is to safeguard the purity, integrity, and accuracy of Kundalini Yoga as taught by Yogi Bhajan. They provide services and resources for Kundalini Yoga students and teachers around the world, including international yoga teacher certification, and product review and approval. They also head the task of preserving teachings of Yogi Bhajan through the Library of Teachings project.
To find out more about KRI Teacher Training and summer courses visit their website here >
Kundalini Yoga is taught daily at the Ashram as part of the morning Sadhana program. This is not a formal class, and therefore there is no charge to attend. Additional yoga and meditation activities can be found on the Spiritual Life page, or by contacting the Ashram Secretary for further information.
Classes at the ashram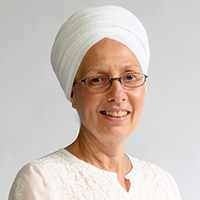 Kundalini Yoga classes are being offered weekly, in the new Yoga Center opposite the Gold House on Shady Lane, Espanola:

Monday - 5:45 pm, Tera Kaur, KRI certified instructor
For more info: 505 901 2883 or tkk108@gmail.com
Suggested donation: $11 per class
Bring a mat, a blanket, and a water bottle
Local yoga centers offering classes:
Black Mesa Massage & Yoga, Lori Garcia, Instructor
1318 S Riverside Dr., Espanola, NM 87532 - 505-367-0847
Espanola Presbyterian Hospital - Gentle Yoga - good for anyone with chronic health issues - Can be done on the floor or in a chair - Wednesday 5:15-6:30 at 3rd floor lounge - Free - Instructor: Jivan Joti K Khalsa PhD - Questions: jivanjotikaur@gmail.com or 505-753-6241
Khalsa Acupuncture, 919 Central Ave, Los Alamos. Mondays at 10:00 a.m., Tuesdays at 5:30 p.m., and Saturdays at 9:00 a.m., $5/class. 505-661-9620, www.khalsaacupuncture.com. Seva Simran Siri Singh and Kaur, Instructors.
Khalsa Health Center, Harbhajan Singh, 2074 Galisteo Street, Suite B4, Santa Fe, NM 87505, 505-986-8300. Download flyer
Larry R. Walkup Aquatic Center - Tuesdays and Thursdays, 7:00 am, 2760 Canyon Rd., Los Alamos. Noor Singh, instructor.
Northern New Mexico College, Espanola - Now offering Kundalini Yoga and Meditation classes with Gurumeet Kaur - Register at the College or online at www.nnmc.edu
Pojoaque Wellness Center, 101 Lightning Loop, Santa Fe. Water Yoga, Friday's, 9:00 am - 10:00 am. Instructors: Gurumeher Kaur & Jivan Joti Kaur.
Purest Potential (formerly Yoga Santa Fe), Guruchander Singh and Kirn Kaur, 1505 Llano Street, Santa Fe - 505-982-6369. Annual Level One and Level Two Teacher Training Courses offered. Space available for rental to certified healers and yoga teachers.
Sacred Kundalini Santa Fe, Gurudev Kaur, 1300 Luisa Street, #23, Santa Fe, 505-690-0040.
Local Kundalini Yoga Teachers
Many of our local sangat members teach in their homes or in other cities in the nearby area. For a larger list of teachers in the area, view the IKYTA Teachers Directory.