Sangat Activities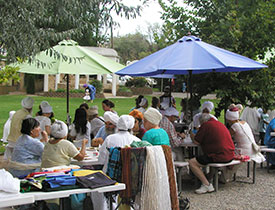 On Thursdays at 12:30 p.m. we serve Langar or a free meal to nourish body and soul. We gather to sit together as a family and enjoy the company of everyone who joins us from the Espanola community. We are working to expand our Langar program to be served daily. Your donations are greatly appreciated.
If you would like to participate in the preparation of this meal or clean-up, please contact Mata Mandir Singh at 927-6715.
On Sunday's, we also serve a free langar immediately following our Sunday Gurdwara services. All are invited to share in this meal.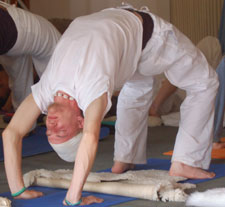 Centers offering Kundalini Yoga classes and Teacher Training Courses include the GRD Health Center in Espanola, Yoga Santa Fe and many more. You may contact the yoga centers directly for their schedules. For more on Kundalini Yoga classes in the area.
Hacienda De Guru Ram Das Ashram, 505-753-6341
Kundalini Yoga classes are being offered weekly, in the upstairs Langar Hall

Monday - 6:00 pm, Tera Kaur, KRI certified instructor
For more info: 505 901 2883 or tkk108@gmail.com
Wednesday - 6:00 pm, Hari Jiwan Singh, Instructor

Thursday - 6:00 pm, Sat Sundri Kaur, Instructor

Suggested donation: $8 - $10 per class
Bring a mat, a blanket, and a water bottle

GRD Health Center: 415 N Paseo De Onate, Espanola, 505-753-3369
Yoga Santa Fe: www.yogasantafe.com (505) 982-6369