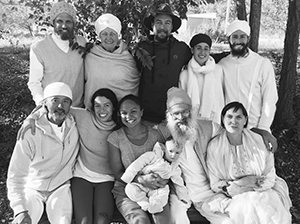 Seva Sadhana is a new service program of Hacienda de Guru Ram Das Ashram. Our first living space for guests (called sevadars) was completed August 2016; with the completion we began offering the opportunity for people to come and experience Ashram living and be a part of the living legacy of Yogi Bhajan.
The program invites people to come from all over the world to live, study, and practice the 3HO (happy, healthy, holy) lifestyle – featuring the core elements of Seva (selfless service), Sadhana (discipline), and Sangat (community).
Participants start the day with group aquarian sadhana at 3:40am and contribute 20-25 hours of directed Ashram seva a week. Sevadars prepare and share vegetarian meals together, have access at least 4 afternoon/evening yoga classes a week, and are offered weekly workshops focused on 3HO lifestyle, the technology of Kundalini Yoga, and Sikh Dharma.
The program brings fresh energy to the Ashram and is a driving force of expansion in sharing the teachings and legacy left by Yogi Bhajan.
For more information, visit the website here >