Siri Chand Singh and his wife, Tejinder Kaur at her 120th Day Celebration in the Gurdwara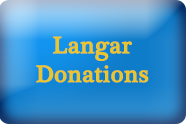 You can now make one-time or recurring monthly langar donations here >
Hacienda de Guru Ram Das Ashram (HGRD) is the home of Yogi Bhajan, the 3HO Foundation (Healthy, Happy, Holy Organization), KRI (Kundalini Research Institute) and SDI (Sikh Dharma International).
From here you will find a wealth of information on who we are, where we live, and what we do.
We are pleased to provide many great services to our visitors and residents, including morning sadhana, gurdwara services, langars, akhand paths, Kundalini yoga classes, and many other activities.
Three lovely ladies; Sat Shabad Kaur, Sat Darshan Kaur and Guru Amrit Kaur at Harigun Kaur's baby shower tea.
Partap Singh and Anand Karam Singh helped make langar in the kitchen to celebrate their birthdays.

Corp of Volunteers serving our community!

Food for Kids Program
read more >